You might ask "What's a 'Domestic' machine?" Well, that is a fantastic question! Here's a definition from ABCsewing, As the name suggests, domestic sewing machines are those typically used in homes by sewing enthusiasts. Because these people usually engage in a variety of projects — from making dresses and shirts to sewing curtains and futon covers —domestic sewing machines are manufactured with versatility in mind.Basically a "domestic" sewing machine is one designed for home use, for the "Domestic Engineer" (translation: housewife).  So any sewing machine that doesn't expressly identify as a "commercial" machine, a "heavy Duty" machine, or a bona fide "Long Arm Quilting Machine" (we'll discuss all those at some point) is, for our purposes, a 'Domestic' machine!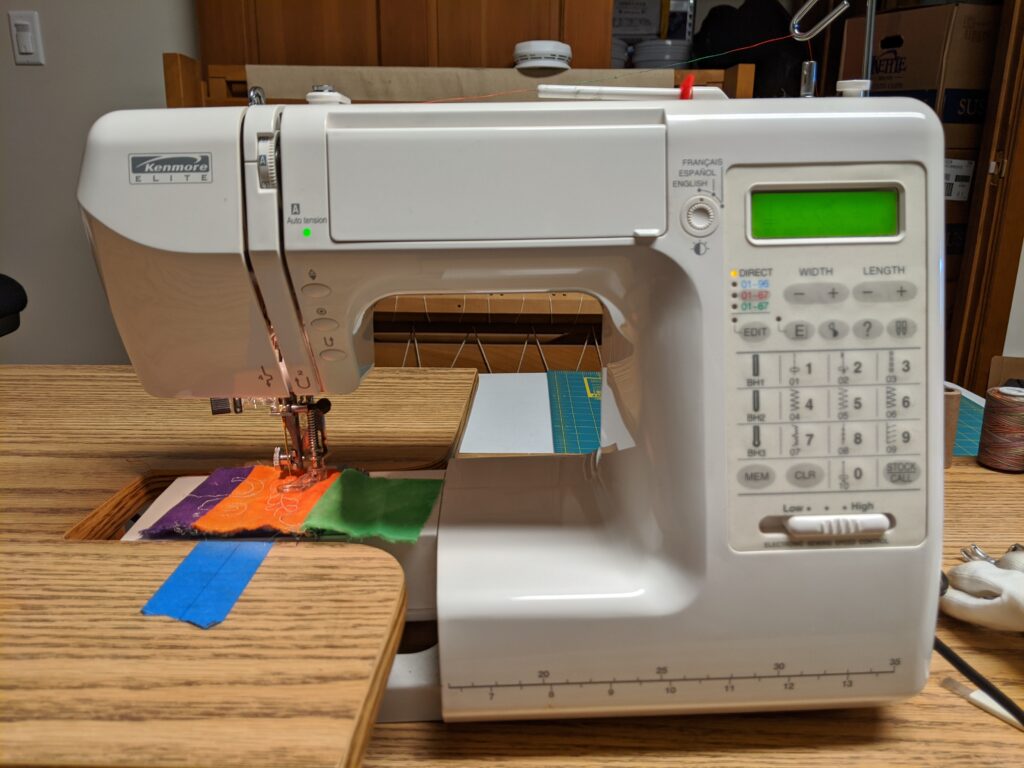 I have a small collection of machines, but the one I am using in the video, and am quilting with right now, happens to be my "newest" machine, a Kenmore Elite, which belonged to my deceased mother.  Kenmore is a  brand that was made by Sears, Roebuck and Co. for many years. Apparently, the first one was branded in 1913. Thanks to this awesome article from Sewing is Cool, https://sewingiscool.com/kenmore-sewing-machines-history/#:~:text=Kenmore%20Sewing%20Machine%20History,-The%20Kenmore%20has&text=The%20first%20year%20the%20Kenmore,war%20due%20to%20material%20shortages. I learned a little more about the history of the Kenmore machine!  I have another, older, Kenmore machine as well, which was also my mothers and has an interesting history, which I'll cover sometime in another blog. This particular machine, the Elite, is 18 years old, which I only just realized, as my mother, was organized to a point that some people (me!) might find disturbing, stapled the original purchase receipt to the inside of the front cover of the manual for the machine.  I guess I shouldn't be surprised, it does have a VCR tape with pro tips and tricks and a 'live action manual', so…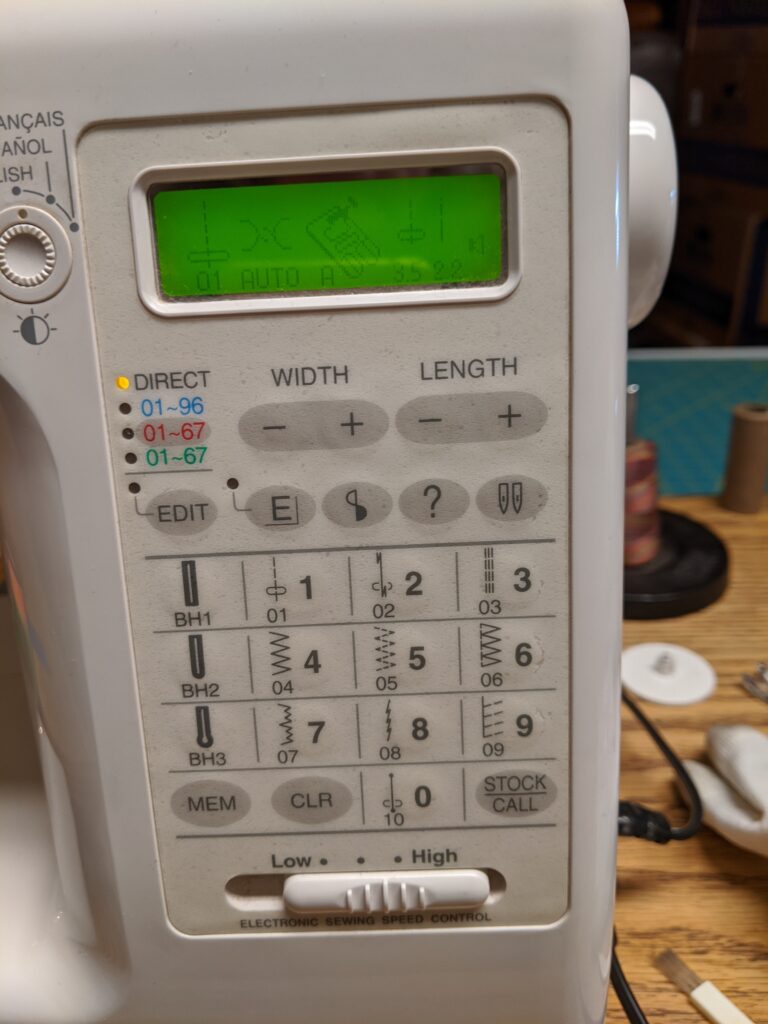 The Elite is an electronic machine, so it has an LCD display panel, and has many stitches pre-programmed into it. It was a relatively high-mid range machine for the time, I think.  It also has what's called a "free-arm", which means that the little platform that you put the fabric on to sew it together comes off and leaves a skinnier platform, with space underneath, which is awesome for people who are making things like clothes, items with sleeves and legs, that are easier to hem or whatever when you can slip it over the free arm. I don't generally make clothes, and when I do, it's not usually something tailored enough to have small sleeves or legs.  I do happen to have a table with a flip up piece that goes around the free arm, to give me an even bigger surface to put the fabric on, though it's still not big enough for quilts!  I added a folding table from Costco to the back, but really I'd like to have a table to the left side as well, to hold up the heavy part of the quilt. All that will have to wait until someday, when The Kestrel Nest is in a studio space, instead of the cram-packed craft room in the basement. But until Someday comes, I'm going to have to make do with the space I have. It makes quilting larger projects interesting, for sure. 
Anyway, I've gotten sidetracked by the machine, basically, it's a domestic Kenmore Elite machine, from 2002, and I'm using it to free motion quilt a large project. The quilt in question is one of the first quilts I ever made,(also designed myself, not the best choice, but it's done now!)  and I did my first free motion quilting on it, which is why it doesn't have any specific pattern and kind of looks like a hodgepodge of different quilting patterns, done not-very-well, because that's exactly what it is. I've made other quilts in the interim, also quilting them on this machine, but this quilt kept getting set aside for various other projects, or just because I'm too busy with life/work. Now, during COVID19 social distancing, and rainy, nasty spring weather where I live, it's a perfect time to pick it back up. So, I had been using multicolored thread on the solid back, solid purple, and the small squares along the edges. The video accompanying this blog post is finishing out the sideline squares.  And now that the squares are finished, I have to wait for an Amazon delivery of the thread for the central strip pieced portion. I ordered a dove grey for that section, because I don't want the stitching to show up like the colored stitching in the edge pieces. I want the color to speak for itself and not be overpowered by the quilting. In the solid portions, I wanted to add some interest, so I used the colored thread. I happen to like the way it looks, though all of my errors, mistakes, and general inability to create super-smooth free motion patterns like some people can (Angela Walters!) are very apparent, possibly glaring. I like that it shows the process of learning to do these patterns, learning this skill, and making my way through while teaching myself new things. Things don't have to be perfect to be pretty, or to keep you warm!
Watching the video is sort of visual ASMR, at least for me. I really enjoy watching videos of quilting, drawing, paint pouring, etc. I don't like the sound ASMR stuff, it makes me feel really angry, but watching people craft is really enjoyable and does give me a sense of calm and well-being. 
As far as learning to quilt, this video is not going to give you that. It's really just a speeded up demo. I took 45 minutes of video and squished it up to 5x speed, so it's less than 10 minutes long, and much more interesting to watch. It does show a bit about how to move a large quilt around under your machine, and what a great tool Machingers gloves are, because they help me keep a grip on the fabric, which constantly wants to slide away. I also have a slider mat that goes under the quilt (although I forgot to use it for this video!), which really helps with moving the quilt, too. 
When free motion quilting, I'm using what's called a 'jumping foot' and my 'feed dogs' (those are the things that move the fabric through the machine from underneath) are down, which means they're not making contact with the fabric. Domestic machines were not really designed to sew side to side, but with the feed dogs down and the jumping foot, I can move the quilt around with my hands to sew from any direction. The sewing machine still really appreciates it more if I sew generally with the fabric moving from the front to the back of the machine, though!
I'm thinking about my next blog already, should it be a tour of all of my UFO's (Un-Finished Objects? or should it be on disassembling the sewing machine and giving it a good clean and oil?  Or should it be all about my new spinning wheel?  So many possibilities!  Leave a comment and tell me what you'd be interested in!