Unfortunately, I haven't had a lot of opportunity to get good video of the actual sweater knitting. I attended a conference (online) over the weekend last weekend, and actually got quite a bit of knitting done, but not any video. I have completed the body of the sweater and the bottom band. I tried it on before I added the first sleeve, (I do have a picture of that) and I kind of hated it. It seems longer than I'd like and I'm fatter than I'd like, so it doesn't really fit comfortably like my Flax Light (which probably doesn't fit comfortably anymore, either!) The pattern from the self-striping yarn is kinda crazy, and I still can't decide if I love it or not. It's definitely fun. And I still love the yarn. I have this feeling that I'm going to end up frogging everything I make. I should probably just skein this yarn and leave it next to my pillow to snuggle with!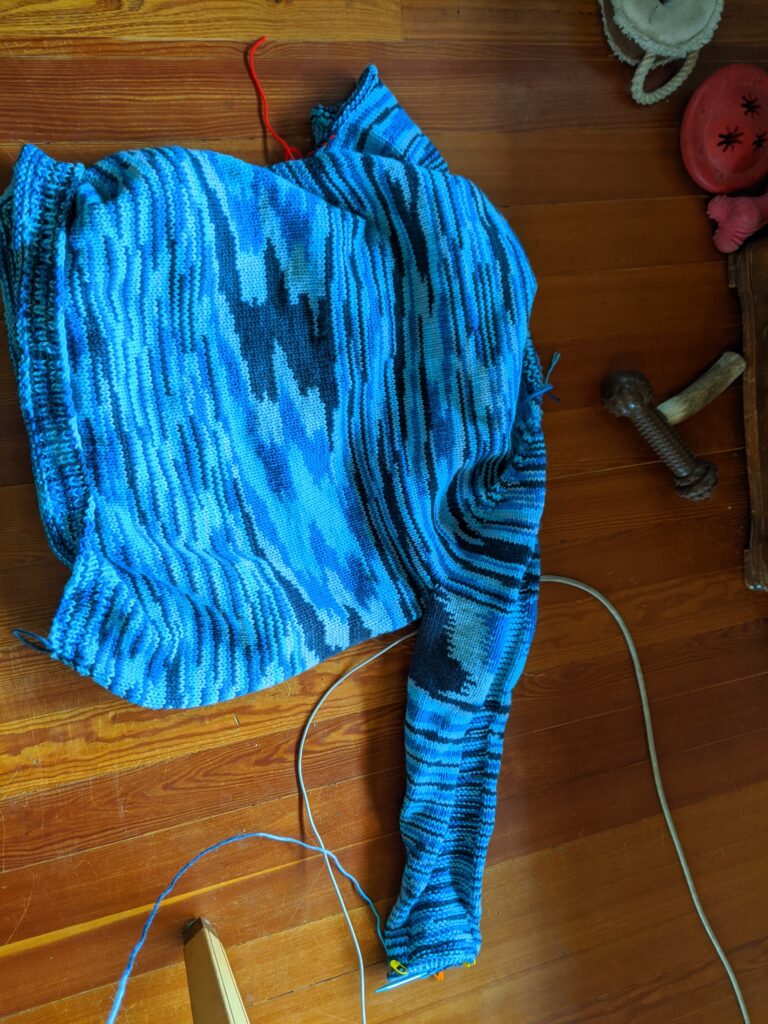 But, here's some news, after finishing the first sleeve, I tried it on again, and I like it! It's comfy and soft. I had forgotten that the bottom 8 stitches for the sleeves had not yet been picked up, and that there would be more room in the sleeve and it wouldn't feel so constricting around the back and chest when I untied the waste yarn holding the sleeve stitches.
I should add here, again, how much I prefer seamless, in the round, knitting. I really hate seaming, and especially on something like a sweater. I also tend to be hypersensitive to annoying seams, so a nice seamless sweater is just the thing for me. Now I have to go cast on the last sleeve, and get it done! Maybe I'll even get some useable videos.
One more thing, for those of you into the fiber thing, I got an early birthday present from my sweet Jacob. I gave a sneak peek on Instagram the day I got it, but I'll go more in depth in a post soon, and I look forward to sharing the learning journey here! Leave me a comment and tell me what you think I've got, or if you've already seen it on Insta, what questions you have about it!